A FRAMEWORK FOR MINDFUL LIVING
THE GILD
COMPLETED
LIVERPOOL
MASTERPLAN & RESIDENCES
Development:
MASTERPLAN & RESIDENCES
Location:
THE PAPER MILL PRECINCT, LIVERPOOL
Project Status:
COMPLETED
Product Mix:
83 APARTMENTS
Collaborators:
CORONATION PROPERTY, WOODS BAGOT & ASPECT STUDIOS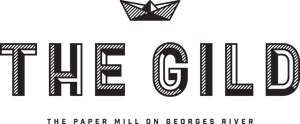 The Gild consists of 83 crafted apartments in a range of 1-, 2-, and 3-bedroom typologies. Set amongst the natural beauty of the Georges River, The Gild offers a variety of bespoke laneway apartments, fused with spectacular landscaping, a private rooftop pool and exclusive resident gardens.
As a nod to the site's industrial past, The Gild 's architectural vision is one of timeless homes surrounded by nature, its heritage façade celebrating raw, natural, and solid materiality to deliver an exceptional industrial finish.
Showcasing the pinnacle of urban living, The Gild's beautifully appointed interiors feature stone benchtops, premium Italian appliances and engineered timber floors. There is an obvious refined elegance and attention to detail in every room, with natural lighting and expansive views creating a sense of ambiance and tranquillity that resonates through homes.
Located within the Paper Mill Precinct, The Gild is rich in amenity surrounded by landscaped gardens and pedestrian pathways connecting each residential tower within the precinct.